Our Amber Journey
15 June 2020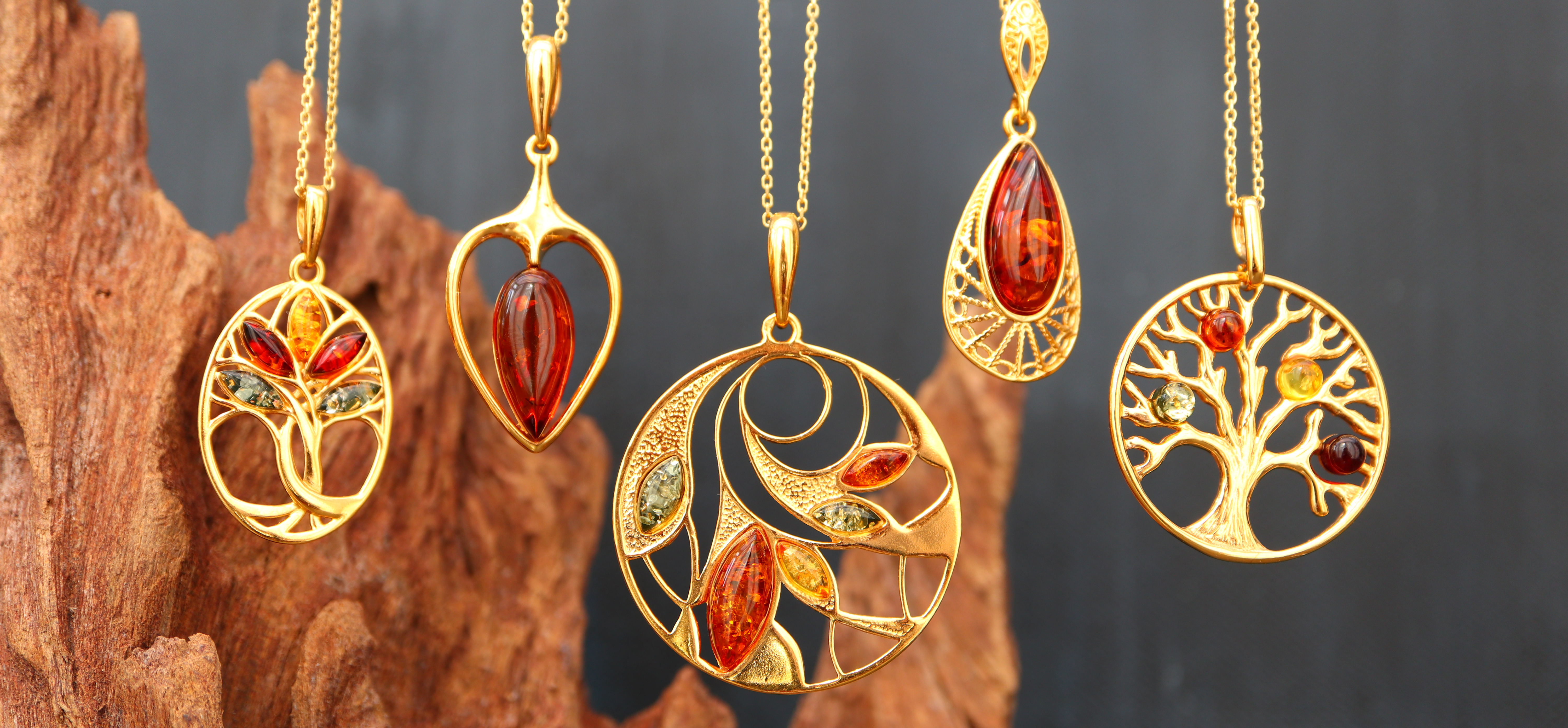 As a silver wholesaler our amber journey started in 1995 when two of the founding directors crossed Europe by train (no direct plane routes at that time) to an amber exhibition. Poland was blossoming after years of hardship, changing from a communist state-controlled economy to a free market with many traders taking their place at trade shows for the first time. One of our suppliers, Margaret, remembers that CME was one of their first customers outside of Poland at what was also their first exhibition. She remembers having such a small show stand it was difficult to turn around. Her recollections at that time were that "Barbara and Ken, I remember very well as very nice, warm couple - but also quite 'hard' in negotiations". She remembers how unsure they were about whether amber would sell in the UK but they fell in love with it so started with small orders of just a few earrings which grew over time to pendants, brooches, bracelets and more.
We still buy from Margaret today and she has provided CME with reliable bread and butter lines for over 30 years which still sell well.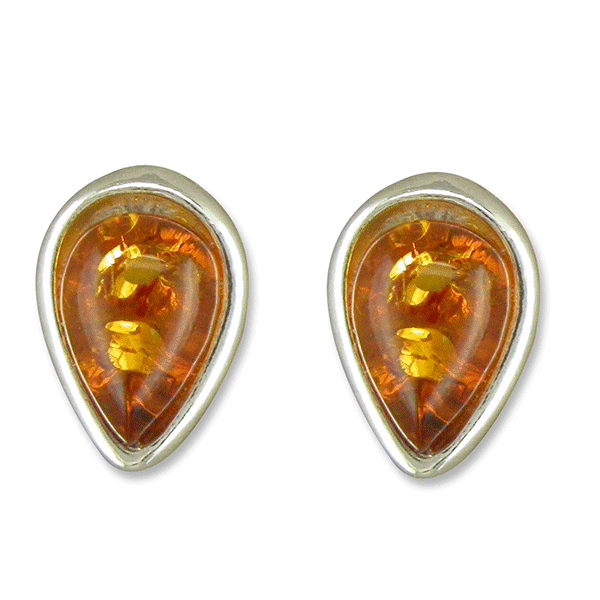 [ Teardrop Stud R6553/B, Owl pendant R6548/B, Drop Earrings R6597/B, Bracelet R6602/B ]
The amber stud in all shapes and sizes remains a staple for customers on-line or in shops; even if you do not offer an entire amber range, one or two pieces can lift a silver collection.
Traditional
At the height of amber popularity there was an appetite for large structural pieces of amber mainly set in beautiful traditional styles. At our trade shows in the UK keen customers sorted through and picked their choices and paid by the gram.
The demand for larger pieces tends these days towards the elegantly designed, although many are still set with leaves and hints of the traditional.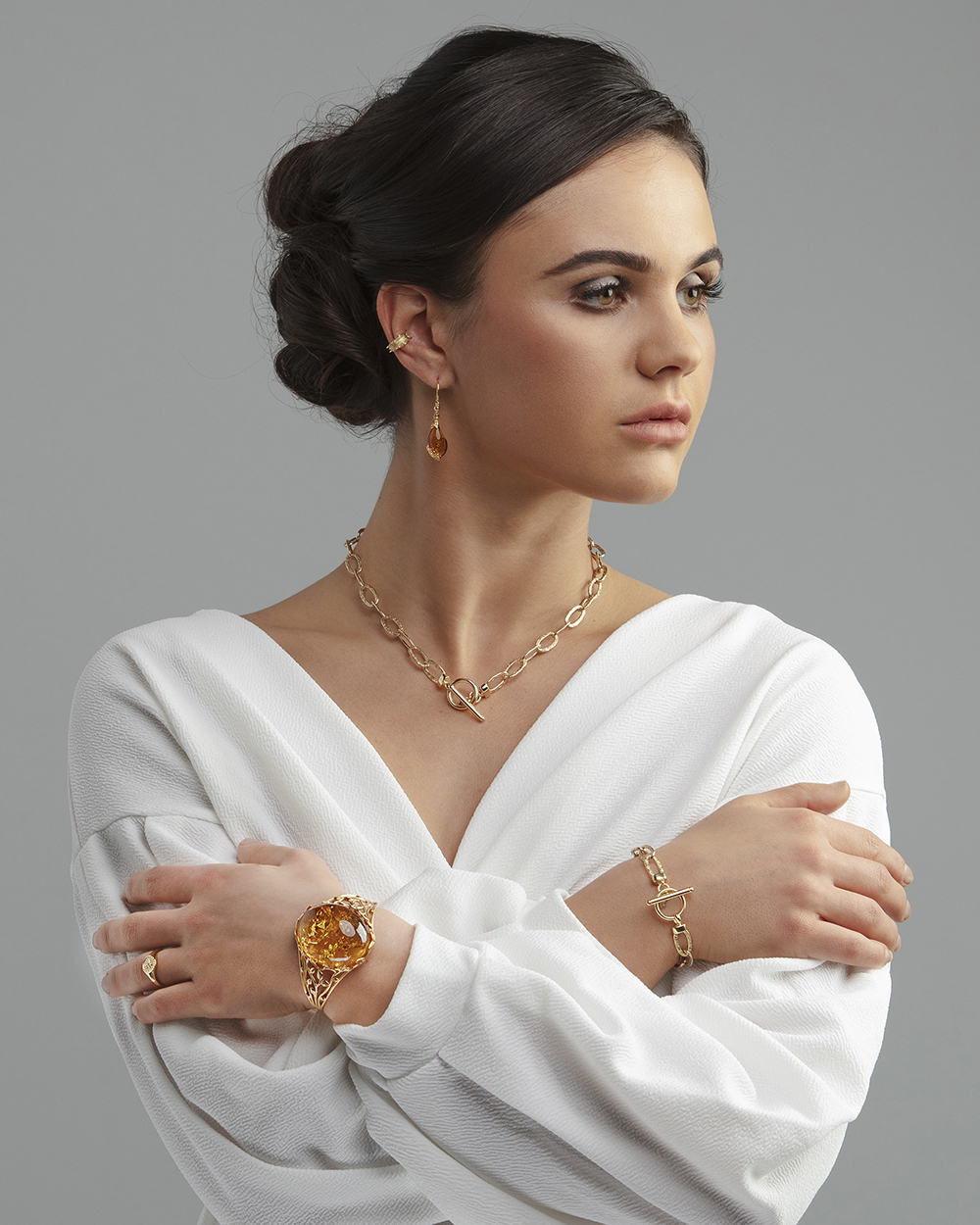 [ Amber Earrings H3646/B, Cuff Earrings H3967/Y, Amber Bangle H3613/B, Necklace H3937-43, Bracelet H3937-43, Ring H3833/Y]
In this photo mixing amber with other gold and silver jewellery allows each to shine in its own way giving a very elegant appeal for a striking and luxurious feel. The amber bangle pictured is a hero piece, lovely as a central item to attract attention in any display.
Best selling
Modern amber jewellery offers a wide range of choice from luxury items to pieces offering a contemporary style or trend. Amber may be the central attraction or just a small feature, adding texture or colour. Every piece, however small, offers a chance to own an individual and unique piece of natural history, a choice usually only available in expensive gem stones.
Many of our best-selling lines in recent years have designs rooted in nature.
Revamping the range
In 2018 we overhauled our amber range seeking out new designs, modern trends and classical favourites to offer an updated range of timeless jewellery for our customers.
We were in hot water when we go home, as the rest of the staff thought we'd got carried away!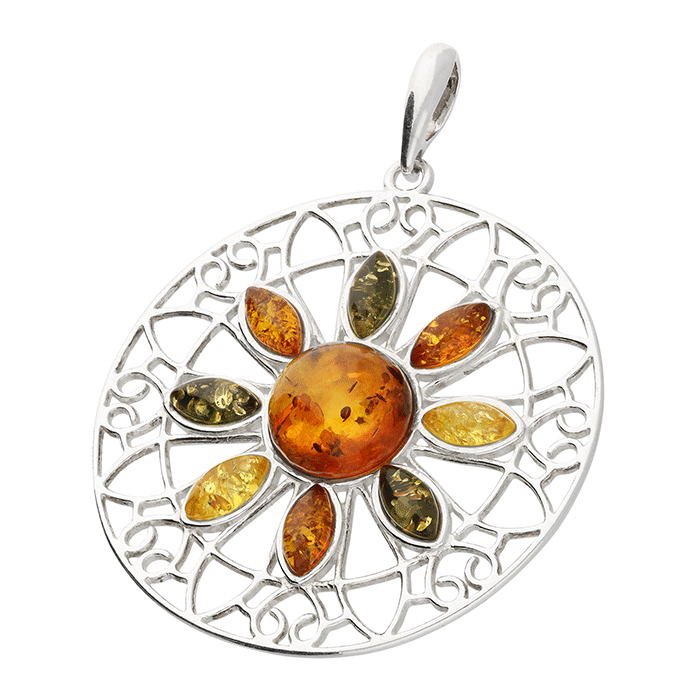 [ Statement pendants H3510/M. Affordable rings H3469/G. Elegant options H3675/M Appealing animals H3653/B A very modern take H3786/B ]
Yellow gold-plated sterling silver
With the rise in popularity of yellow gold-plated items we decided to take a chance that others would like it too. Amber and yellow gold-plated silver produces a lovely mellow partnership and we love the look —and many of our customers do as well.
We couldn't walk past this gorgeous lemon citron necklace H3636/L (now also available in silver H4107/L)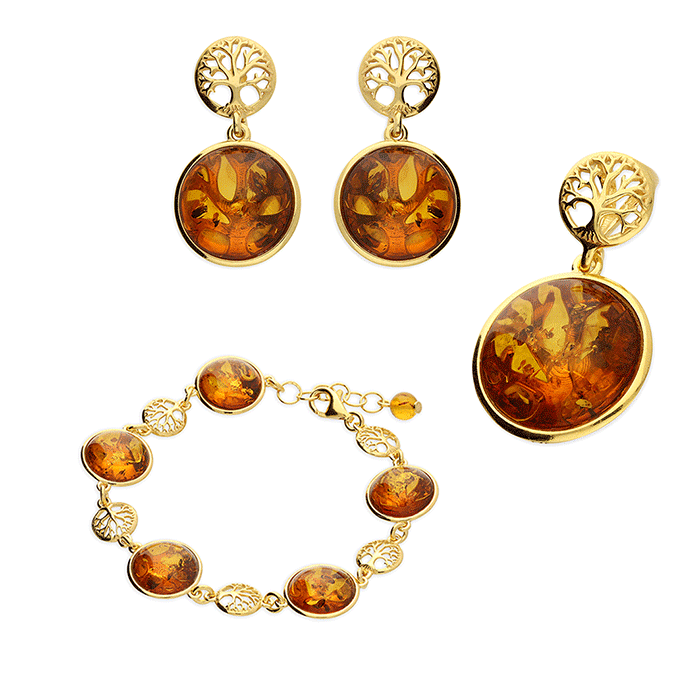 [ Special sets: Tree of Life Bracelet H3623/B, Tree of Life Pendant H3632/B, Tree of Life Earrings H3640/B. Everyday: Bead Bracelet H3771/B, Oval Ring H3464/B, Oval Pendant H3711/B,.Lemon Citron Necklace H3636/L ]
New for 2020
By popular demand we have added to our robin pendant some pretty drop earrings H4124/B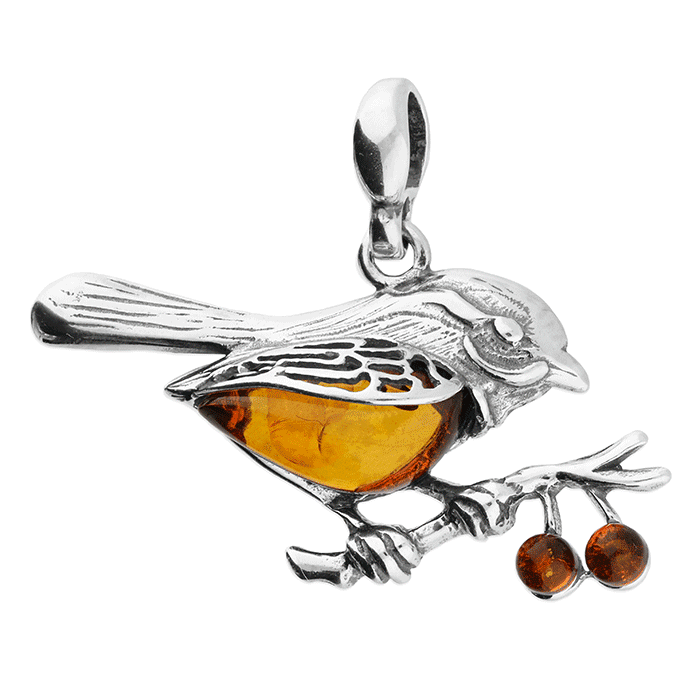 [ Pendant H3907, Earrings H4124/B ]
Expanded our bee range; rings and pendants in silver and yellow gold.

[ Brooch Pin H4094/B, Pendant H3655/B, Ring H4095/B, Earrings H3683/B ]
Added funky ladybird and leaf pendants and earrings plus contemporary special occasion pieces.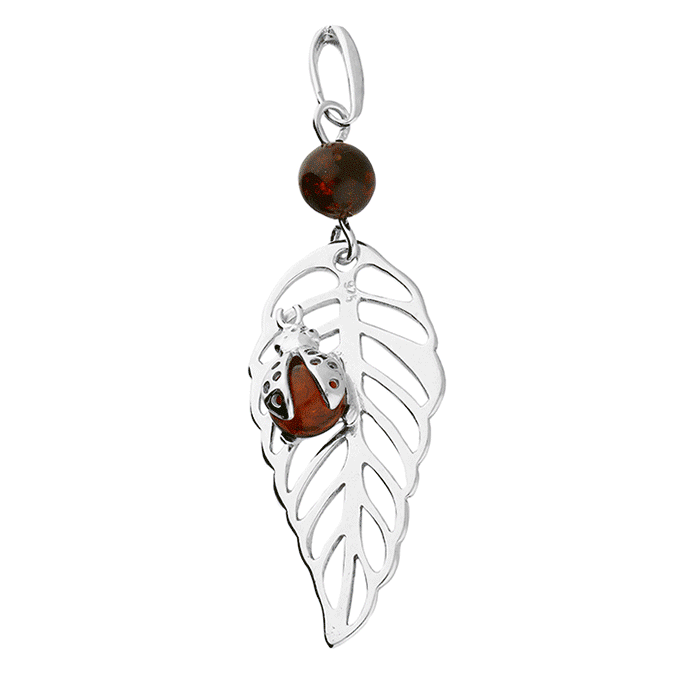 [ Ladybird Set: Earrings H4078/B, Pendant H4077/B. Contemporary Set: Earrings H4110/M, Pendant H4109/M ]
The yellow gold-plated range has increased in popularity so we added some new pieces.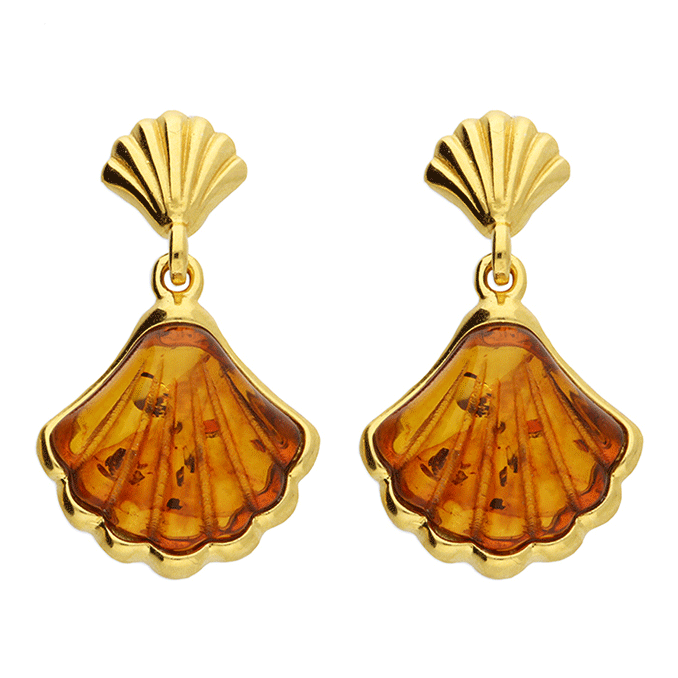 [ Pendant H4122/B, Earrings H4092/B, Ring H4089/B ]
Display-Gate!
We had the idea to display our new amber on a 'home-made' wooden display stand at the NEC and IJL in 2019 much to the disgruntlement of one of the directors who said it spoiled the overall look of the new stand!
Customers loved it and it attracted as much attention as the amber with many small shops asking for instructions on how we had made it. E-mail debbie@cmejewellery if you are interested in how it was made.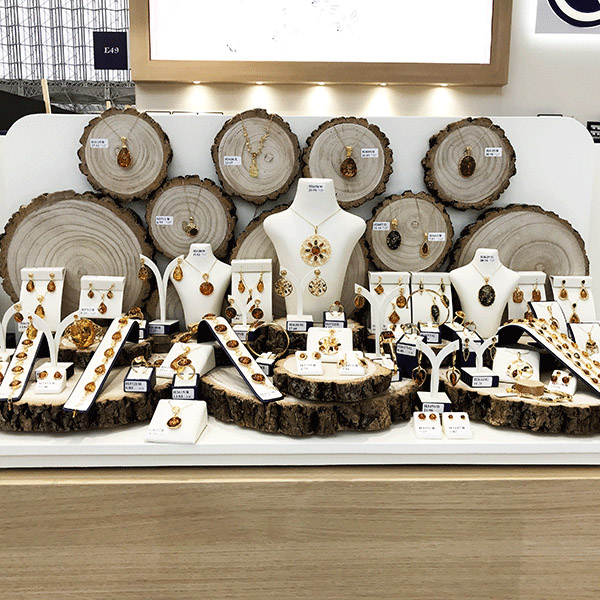 ---
Facts about amber
What is amber?
Amber is fossilized resin of ancient trees living 25 to 50 million years ago, but some pieces have been found which can be as old as 130 million years.
Where does it come from?
Amber has been found on most continents but our amber is from the Baltic states and is commonly known as the 'Gold of the Baltic'. Baltic amber contains 3-8% of succinic acid, a scientifically examined medical substance used in contemporary medicine which led people to feel it has healing properties. Some believe that wearing amber regularly can provide pain relief.
What colours?
There are seven main colours and 250 shades of amber. In the UK the most popular are cognac and green. We occasionally also stock citron or cherry amber.
Is it treated?
Green and cherry amber do occur naturally but are very rare so these colours are more commonly created by heat treating yellow or cognac amber.
Is there anything inside?
Creating its own mini time capsule, amber has the ability to preserve articles such as insects, spiders and their webs, annelids, frogs, crustaceans, bacteria and amoebae, marine microfossils, wood, flowers and fruit, hair, feathers and other small organisms that have been recovered in ambers dating to 130 million years ago. Pieces containing insects, etc can be found although they tend to be rare and valuable.
Gdansk Museum of Amber is a great place to visit. https://www.poland.travel/en/museum/amber-museum-in-gdansk